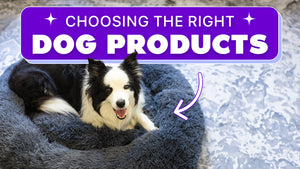 Choosing the Best Products For Your Dog
Choosing The Right Dog Products
When it comes to caring for your pooch, selecting the right products is essential. In this blog, we'll explore the items that every dog owner should consider. We'll discuss the importance of choosing the right dog bed that will support your dog, selecting suitable food and water bowls, and the benefits of waterproof and heavy-duty dog beds. We'll also discuss the practical benefits of dog throws and car seat covers.
So, let's dive in and discover the products that will keep your beloved pet comfortable and cared for.
Dog Beds
When it comes to providing your dog with a comfortable place to rest, The Brooklyn® Deep Sleep Pet Bed is an excellent choice. With a plush and supportive design, it provides relief for joint pain and promotes better sleep, while the high-quality materials used ensure durability and easy maintenance. Available in various sizes, this bed caters to dogs of all breeds. To find the perfect orthopaedic, calming pet bed for your dog, check out The Brooklyn® Deep Sleep Pet Bed. Your dog will love having a cozy and inviting spot to relax and unwind.
Dog Food/Water Bowl
Like a personal dining area for your furry friend, dog bowls ensure they have a special spot to enjoy their meals. For durable and versatile options, consider The Brooklyn® Tuff Dog Bowl. This heavy-duty bowl is designed to withstand everyday use and can hold up to 8 cups of water or kibble. With a non-slip bottom it offers convenience and versatility, and ensures your furry friend has a reliable and stylish feeding station. 
Dog Blanket/Car Seat Cover
Blankets and dog car seat covers not only shield your furniture and car seats from fur, dirt, and unexpected messes, they also offer a snuggly spot for your furry friend to unwind. The Brooklyn® Dog Car Seat Cover ensures a clean travel experience when you and your pet are on-the-go, while The Brooklyn® Deep Sleep Throw provides an extra layer of comfort and security, enhancing your pet's sleep while protecting your couch or bed.
Make your Dog's Day Today!
Give your dog a little extra love, and pick out a special gift from The Brooklyn. From cozy beds to durable bowls and more, you'll find everything you need to enhance your pup's comfort and happiness. Browse our collection of
dog products
and discover a range of tail-wagging treats.
---